Blog
Studs and War: A Memorial Day Round-Up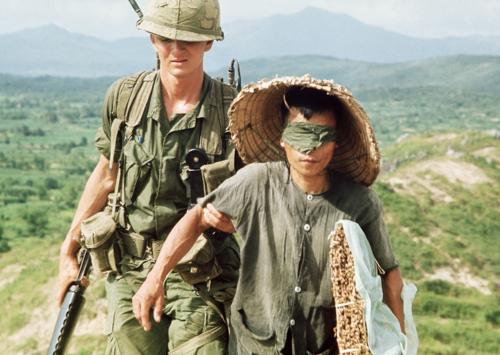 Studs Terkel lived a consummate 20th Century life, which is another way of saying Studs lived a life profoundly touched by war. The Somme, Belleau Wood, Guernica, Normandy, Auschwitz, Hiroshima, Khe Sanh and countless other places given immortality by the blood shed on their soil are way stations, necessary if disturbing stops on a journey to understand the 20th century. And there was no better conductor for that painful journey than Studs. Whether it be his Pulitzer Prize-winning oral history of WWII, The Good War, or his countless interviews with veterans, war correspondents, and civilian survivors of conflict, Studs' body of work constitutes a vital link to the 20th century memory of destruction. A memory we must keep to avoid a 21st century repeat, a memory we are in danger of losing to the passage of time. 
Memorial Day offers us a crucial opportunity to reflect on that memory, and the Studs Terkel Radio Archive is proud to play host to a plethora of Studs' conversations that allow us to do just that. Here are just 3 of the more poignant exchanges we have to offer right now. 
   1. Eddie Balchowsky and The Spanish Civil War
The Spanish Civil War, and the cause of the Spanish Republic, was always close to Studs' heart. He even narrated the 1988 documentary The Good Fight: The Abraham Lincoln Brigade in The Spanish Civil War about Americans who went to Spain to fight on behalf of Spanish government against a coup led by General Francisco Franco. Studs' interest in the subject shines through in his 1970 interview with painter, poet, and Abraham Lincoln Brigade veteran Eddie Balchowsky. Eddie's excellent storytelling abilities make for a rich and colorfully detailed interview, which also includes a performance by Ed, an accomplished pianist, of several wartime, Pro-Spanish Republican songs. 
    2. Robert Black, Robert Johnson, Dr. Gordon Livingston, and Steve Perriman on the Vietnam War 
One of the best qualities of Studs' WFMT show was how his insistence on letting his guests talk at length allowed for the revelation of profound personal memories impossible to express in a soundbite. Studs' two-part interview with Vietnam veterans Robert Black, Robert Johnson, Dr, Gordon Livingston, and Steve Perriman is a perfect example of the power of Studs' interview style. The first part, conducted in 1970 and the second, conducted in 1973 are a compelling document of four ordinary Americans experience of, and disillusionment with, the war in Vietnam. 
    3. C.D.B. Bryan on Michael Mullen 
Memorial Day brings the immense mortality associated with war into sharp relief, a perfect example being Studs' 1976 interview with author C.D.B. Bryan on his book Friendly Fire. The book, and interview, concern Michael Mullen, a soldier from Iowa who was killed by friendly fire in Vietnam, and the pain and anger of his mother, Peg. It is essential listening.