Blog
Madeleine L'Engle, Author of 'A Wrinkle In Time,' on Big Minds and Tiny People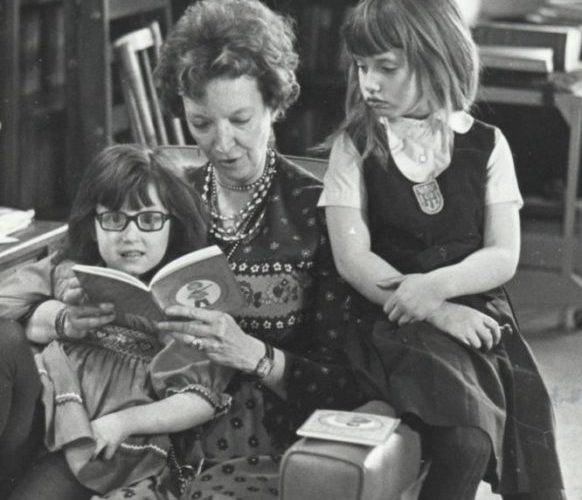 Madeleine L'Engle received dozens of rejections before she finally succeeded in getting her beloved classic, 'A Wrinkle in Time,' published. 
Today more than 16 million copies of the book have been sold in 40 languages, and Disney has poured more than $100 million into bringing the story to the big screen. But, back in the early 1960s, not everyone saw its potential.
"I thought it was a terrific book," L'Engle told Studs in 1983, "and I was not prepared for two years of rejection slips."
L'Engle said in 1980 that she believed the problem was lack of imagination -- and comprehension.  
"These tired old editors would read it and they couldn't understand it and therefore they would assume that children couldn't understand it. So, for two years, they rejected it."
But L'Engle knew better. She long believed that children are more capable of much more profound scientific and spiritual understanding than many adults give them credit for.
"[Young people's] minds are still open, they haven't shut down their... barricades. They haven't barred the doors and closed the shutters. They are still open to new ideas," she told Studs. In fact, L'Engle tailored her characters accordingly.
"If I think the book is going to be too difficult for adults, I will make my protagonist 12, 14, something like that."
Her role, as an author, then, was to provide them with opportunities to do grapple with big questions, and imagine vast possibilities.
"I think children are looking for meaning in a world that is confused and I hope my books offer some hope or meaning… a structure that liberates rather than the structure that imprisons."
Not that L'Engle believes 'A Wrinkle in Time' -- or any of her novels, for that matter, are intended primarily for children.
"I write for myself," she told Studs. "I don't believe that books should be slotted and pigeonholed and stuck into age levels. They are for people who like to read. And if they're about the human predicament, if they are about what people are concerned with, then there isn't any age limit."
Below, listen to a 49-minute excerpt of a 1980 conversation between Studs and L'Engle, in which they discuss life, death, science, young minds, and two of her most well-known books: 'A Wrinkle in Time' and 'A Ring of Endless Light.'