Blog
Studs Terkel Archive, 21 Years in the Making, Takes Aim at 'United States of Amnesia'
When Studs Terkel left WFMT in 1997, at the age of 85, he had no plans to just sit back in his old easy chair and retire. That wasn't Studs' style. He had every intention to continue writing books, engaging in public conversation, and of course, making all kinds of creative mischief.
So he took a new job at the Chicago History Museum, then the Chicago Historical Society.
"The opportunity to work at the Chicago Historical Society - listening to all those voices, creating new programs for schools, communities and the city at large - exhilarates me," he told Robert Feder of the Sun-Times.
"I'm ready to get going."
And so he did. Studs and his 6,000 or so tapes from his show on WFMT headed to CHM's headquarters in Lincoln Park, where he began working as their first distinguished scholar in residence.
This week, the first installment of that audio treasure trove is finally going live in one massive, accessible, digital collection. It took 21 years and, as it turns out, the timing is just right.
Technical and cultural developments are creating new possibilities for researchers, journalists, students, and podcasters. At the same time, advancements in speech recognition technologies are allowing for widespread, affordable transcription, making their contents searchable.
But perhaps most importantly, Studs, always politically engaged and outspoken, will once again get to join the roiling discussion of issues about which he cared deeply -- including racism, organized labor, war, and women's rights.
Many of his longtime listeners and colleagues are eager to hear his voice and the inquisitive, informed conversation he consistently brought to the airwaves.
"We often forget how to listen to one another and I think that's one of the most important things in today's jangled world," said Lois Baum, former associate program director at WFMT and close friend and colleague of Studs. "Studs brought it up almost every day: people have more in common around the world than they think they do."
"I hope the voices in this wonderful archive will help us to better appreciate one another," she said.
WFMT Director of Network Syndication Tony Macaluso, who has been overseeing the development of the archive, agreed. He added that he hopes the archive will enhance the public's historical perspective and sense of humanistic inquiry. 
"Studs often railed against what he called 'The United States of Amnesia,' a phrase he borrowed from Gore Vidal," said Macaluso. " My hope is that this archive can help spark that curiosity."
The tapes, which span 45 years of hour-long conversations aired on Studs' daily WFMT talk show amount to an expansive oral history of the 20th century. They include the voices of some of the most influential activists and artists of that time -- including Rev. Martin Luther King, James Baldwin, Buster Keaton, Cesar Chavez, Gwendolyn Brooks, and Pete Seeger.  They also feature hundreds of less famous but equally insightful "etceteras of history," as Studs called them -- everyday experts, many of whom made their way into Studs' best-selling books, including "Division Street: America," "Working," and "The Good War."
Saving Studs' Tapes 
Tony Judge, a long-time friend, companion, and WFMT colleague, was an integral part of making sure Studs, and his tapes, found their way to the CHM. As Studs prepared to retire, he says, "a number of us were concerned that the programs be well taken care of and properly preserved and in the best hands… The tape stock upon which many of these conversations are recorded has a shelf life, and if they weren't properly handled there was a real chance a lot of this would have been lost."
So he reached out to Douglas Greenberg, then president and CEO of the CHM. Soon after, Greenberg worked out a deal with then-WFMT Senior Vice President Dan Schmidt, who donated the tapes to the CHM.
Executive vice president and chief historian Russell Lewis was there when Studs arrived. He says the staff was overjoyed.
"He's a legend that's coming through our doors. And also he was just a delightful person," he said. "He loved to have his glass of red wine with lunch and he loved Chicago and he loved just mixing it up with people about art and politics."
"And he had wonderful stories," Lewis said.
CHM staff were excited to get a hold of his tapes. "We were glad they were being saved and we were glad they were coming to us," he said. "Although, there was a little bit of a gulp. I mean -- 6,000 reels -- we had to find some space for that. But we did."
They created an area of the museum that could be maintained at a few degrees cooler than the rest of the building, for optimal storage.
For more than a decade, CHM staff digitized the tapes on a piecemeal basis, whenever Studs wanted to listen to something or whenever members of the public -- typically researchers and radio producers -- requested specific programs.
But they had to charge them a fee for the service before they could even listen to the material. The museum simply didn't have the resources or capacity to do more.
Then, in 2010, in partnership with Gary Johnson, then president of the CHM, Evanston philanthropists Charles and Marjorie Benton reached out to the Library of Congress, which agreed to take on the project of digitizing the entire collection.
"This was an amazing thing," said Lewis. "And they were very excited to get these tapes. They realized that this was not just a local treasure, but a national treasure."
They shipped thousands of Studs' tapes to their labs in Culpeper, Va.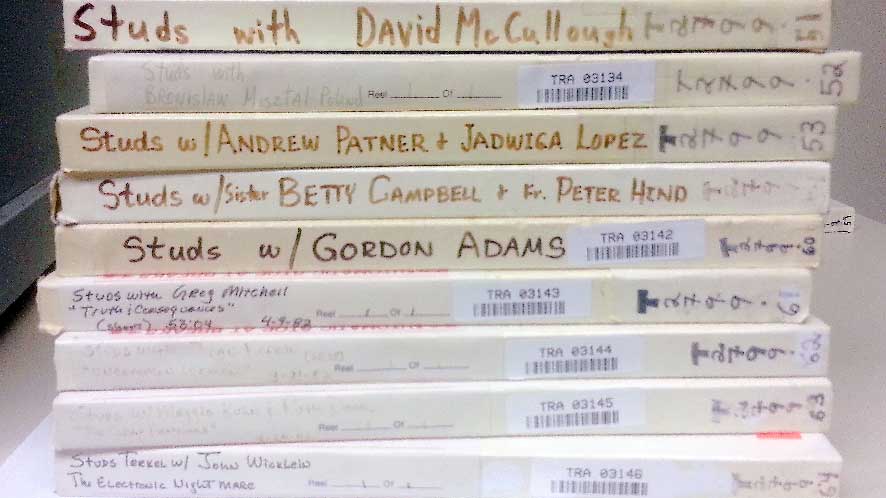 There were delays. They had a backlog, and this was a mammoth undertaking. But, in 2011, they got to work, assessing the level of degradation in the tapes -- some of them more than 50 years old by that point-- and determining how to preserve each of them. If the film was separating, they baked them in a convection oven so that they might fuse back together. If the reel was cracked or damaged, they would be transferred. The effort has been going on for seven years. When it is completed, it will amount to nearly one million dollars of work.
In 2012, the hard drives started trickling into the CHM. Then the question became what to do with them.
Gary Johnson at the CHM reached out to WFMT General Manager Steve Robinson about whether the WFMT Radio Network had any interest in creating a digital platform for their old programs. An exploratory committee was formed and the following year, the WFMT Radio Network received a planning grant from the National Endowment for the Humanities.
The start-up funds allowed them to hire archivist Allison Schein Holmes. But then Holmes, who had just gotten her degree in Library and Information Science, had to figure out how to catalog and present more than 9,000 hours of audio, with conversations spanning the gamut from opera to labor organizing to prison reform to Greek mythology -- sometimes all in the span of one hour.
Schein Holmes said that she spent a lot of time reaching out to others within the archival community to see how they were managing their archives. In the end, she connected with a group called Starchive, which was then creating a system to digitize Bob Dylan's audio, video, and print collection. She worked with the new speech to text company Trint, and utilized a small army of volunteers to create transcripts of the programs. She also discovered a remixer tool by Hyperaud.io that she was able to integrate into the website, allowing the public to share snippets from the archive on social media platforms.
"Typically, those tools are available for media makers, not necessarily the public," she said. "So, that's very exciting for us that we're able to put that in motion."
Future Plans
People who knew and worked with Studs say that it's ironic that his archive will be so cutting edge, given that Terkel himself had an aversion to anything in the digital sphere.
"He did not understand computers at all," said Russell Lewis. "He was mystified by them. He thought they were very cool, but he'd ask me things like, 'How does it get into that thing? How does it get there?'"
What Studs excelled at was talking to people, and teaching them.
"I used to say 'You're such an amazing teacher,' and he'd say, 'I'm not a teacher; I'm just a disc jockey," said Sydney Lewis, who worked with Studs for decades as his transcriptionist and collaborator.
"But he woke everybody up all the time to about whatever he was excited about," she said. "He had this intense, insatiable curiosity and generosity in wanting to share with you whatever he was learning about and discovering."
And that is where the archive began carrying Studs' legacy forward, even before the launch. Schein Holmes has been working with libraries and schools throughout Chicago to introduce kids to the archives, and encourage them to relate those conversations to their lived experiences. Chicago-based Great Books Foundation, meanwhile, has developed several curriculums to do the same across the country.
"Studs - and his wife Ida Terkel, who was more than a wife, but a real partner -- they would both be delighted. The idea that there's now a chance for kids - for whom all of this material is ancient history -- to go back and listen," said Tony Judge. "They would be absolutely delighted."
A podcast, Bughouse Square with Eve Ewing, is also in developlent, set for launch in August. Chicago writer, scholar and artist Eve Ewing and producer Katie Klocksin will build off of Studs' conversations with James Baldwin, Shel Silverstein, and others, putting them in conversation with contemporary voices and events.
"There is so much Studs has to teach us," said Ewing, "from his fundamental belief that everyone has a story worth telling, to his patient and attentive questioning, to his insatiable curiosity about regular people and their lives. I hope that the podcast will be a chance for listeners to see a different side of some very famous interlocutors, but also to practice listening, patience, and care."
And so, ten years after his death and 21 years after his retirement from WFMT, Studs will continue to engage, inform, enlighten, and provoke -- and help the world remember its history.