Blog
Happy Birthday Gwendolyn!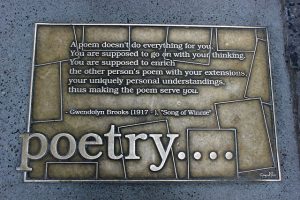 We in Chicago are very proud of our hometown star, Gwendolyn Brooks.  She was poet laureate in Illinois and the first African-American writer to win the Pulitzer Prize.  Often her works, such In The Mecca and A Street in Bronzeville,brought readers from around the world into the living rooms and front stoops of Chicago. The Poetry Foundation describes her work as "express[ing] the poet's commitment to her people's awareness of themselves as a political and cultural entity."
Ms. Brooks joined Studs in the studio in 1961, 1967, and 1975. He introduces her to the listening audience by saying "through the poetry of Gwendolyn Brooks, we learn more of the dreams, the hopes, the visions of the Black people of Chicago better than through any other form, I feel."
In 1961, they spoke generally about her poetry and her family.
In this clip, Studs says to her, "What of you, the creative artist herself? We think of you as Chicago. Was it always Chicago?" She replies, "When I was a month old, my mother brought me back to Chicago and I've been here more or less ever since," and goes on to talk about her childhood interest in reading and poetry.
Later, they talk more specifically about her work, contrasting A Street in Bronzeville and Annie Allen, and about poets who influenced her.
Studs asks Ms. Brooks about her collection The Bean Eaters, and specifically about the dedication to her father, David Anderson Brooks. She goes on to speak briefly about her father and then to read "In Honor of David Anderson Brooks, My Father."
They continue their discussion of specific poems with "We Real Cool" and "The Ballad of Rudolph Reed." To get the most out of this clip, first listen to Ms. Brooks reading "We Real Cool," then listen to the clip (below), and finally read The Ballad of Rudolph Reed".
When Ms. Brooks joined him again in 1967, they spoke about In The Mecca.
This long-form poem is about the community at Mecca Flats, which was razed for construction at IIT. The poem is not available online but local visitors can check it out from the Chicago Public Library. You can read a good deal of her poetry, courtesy of The Poetry Foundation.