Introducing: The Studs Terkel Radio Archive Remix Contest!
The Studs Terkel Radio Archive is proud to present our first ever reuse competition! We have been lucky enough to have our materials used by film-makers, museums, and students over the years, now we want to hear from YOU! This is your chance to pick out the conversations that stand out to you and share them with the world. 
Have you visited our Remixer? This tool contains a library of over 350 fully transcribed conversations Studs had during his career; some are with everyday folks, who offer ideas no less insightful than the conversations with big names like Lorraine Hansberry, Dick Gregory, or Stokely Carmichael. You can find the Remixer directory here and on the Remixer page. Using the remixer, you can pull out specific lines that you want to highlight, and create a sequence of sound bites from across conversations that you think 'speak' to one another!
Matthew Byrd, our Digital Content Producer, has made a video that walks you through what the Remixer is, how to use it, and how to share your own personal creation via social media. In celebration of Black History Month and all of the amazing Black figures throughout history who Studs interviewed, we have brought conversations with Black subjects to the front in our directory for competition submissions.
Guidelines for Competition Participation
There are three major themes that participants can pick from for their submissions:
1.    My Kind of Town (Chicago)
2.    Civil Rights and the Black Power Movement
3.    Art, Performance and Activism 
For each theme, our staff has picked out a small subset of interviews that pertain to the given subject. Before you Remix, make sure to check out the Remixer Directory to know what is available! In the Remixer Directory, click on the theme tabs on the bottom to see what list of conversations are available for each theme. Pick one "theme" to center your remix on. Once you pick a theme, you will only have the conversations within that subset to choose from for your remix.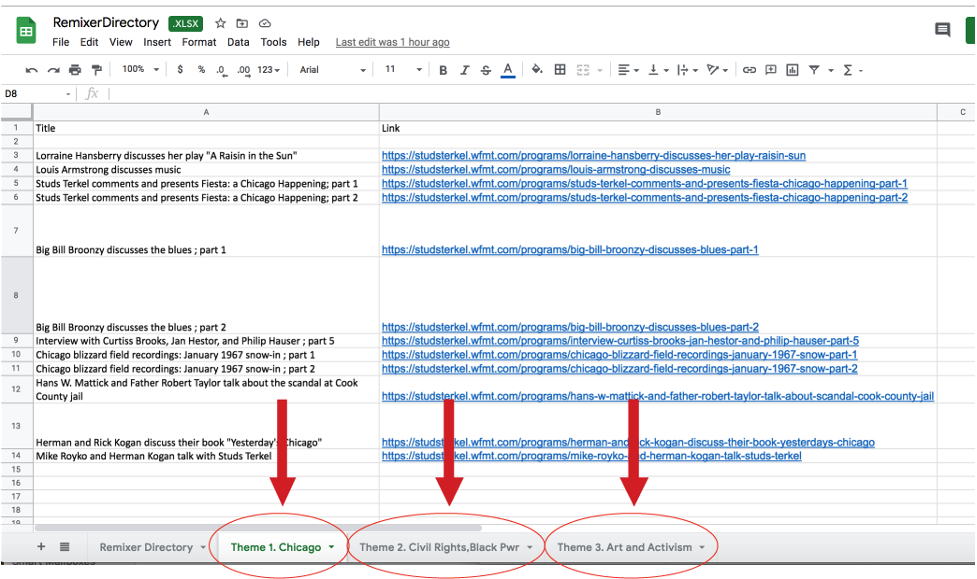 Pick at least two conversations to draw from for your submission. Once you pick out your conversations from the directory, go back to the Remixer Tool, as that is where you can actually cut and combine content.  
You can edit the programs you picked so that multiple parts of a single conversation are used, or you can combine clips from many programs into one remix! This is so that you can highlight provocative and thoughtful moments of interviews. 
Please note that the Remixer only currently runs on Chrome browser. If you don't already have Chrome, go here to download it for free. 
Submissions must be at least 1 minute long, and cannot exceed 10 minutes. Participants can use as much of a single interview or as many interviews within a single theme as they would like, but keep in mind that judges will be looking at how clear a through line is drawn among all clips included in a submission! So you would not necessarily want to include 5 minutes of a single speaker rambling through a conversation if they touch on many different points, if they are not all pertinent to what you are trying to highlight in your remix. 
Once you have finished your remix masterpiece, click on one of the share buttons, either for Facebook or Twitter, to get the unique link to your remix. Once you have made your remix, share your creation on Facebook or Twitter with the hashtag #StudsContest 
Participants should add a short written reflection on their process and thoughts on their product along with their remix. This is your chance to tell us about the context of your piece and what you are trying to highlight in what you picked out! This does not need to be long, just a few sentences. This can be sent along with your bit.ly link or name (just as long as we can match your remix to your email!) to [email protected]. 
Participants will have from Monday, February 22nd until Monday, March 22nd to submit. At Midnight on March 22nd, the contest will be closed, and our judges will begin reviewing your remixes! Participants are encouraged to submit as many remixes as they would like, especially if they have submissions for multiple different themes (one person could submit a remix from the Chicago theme, and then a new remix from the Art, Performance and Activism theme). 
If you are one of our finalists, we will contact you through the social media account or email you used to submit your remix. You will have a chance to win button sets and even a poster, as well as have your remix featured in our Digital Bughouse!
Any questions, or if you prefer to submit your bit.ly remix link via email, can be directed to:
Anna Mason, our Studs Terkel Radio Archive Community Engagement Coordinator, 
at [email protected]